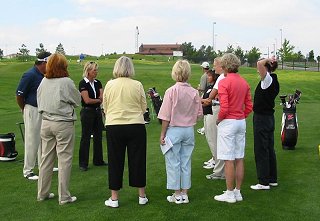 Back To School
Getting The Most Out Of A Golf School Experience
By Lana Ortega
I've been teaching golf for the last nineteen years - twelve years with Mike McGetrick at the McGetrick Golf Academy and the last seven years under Lana Ortega Golf. Before I joined the LPGA, however, I was like most avid golfers...always looking for the best - and shortest - route to consistent, quality golf. I think I've experienced every method to improve: junior camps, golf schools, classroom seminars, private instruction and the "do-it-yourself" method. Through my own experiences and by teaching other golfers I've come to understand a lot about motor learning and what type of environment provides the best opportunity for improvement. This month I'd like to share some key facts about golf instruction and why I feel a golf school setting may be one of the best options to take your game to the next level.
Why do you need golf instruction?
Golf is difficult at best to learn on your own. This can be tough realization for many golfers who are so successful in life away from the course. Even golfers who are extraordinarily adept at other sports find golf frustrating to master - just ask Michael Phelps, John Elway or soccer star Mia Hamm. There are many "self study" materials available in golf magazines, videos and websites on the internet. The difficulty isn't in the availability of information, but in selecting the right medicine for what ails your swing. A good teaching professional can help you sift through the information and tips you've tried so you can keep what applies and toss the rest. He or she will know the root cause of your poor shots and will convey the correct concept and technique - the upside is you won't waste time with the trial and error method. You want to leave a golf lesson with an understanding of the tendencies in your swing that produce your missed shots - and a plan to make lasting improvements to your game.
What is the best form of instruction? There's no denying that individual lessons are great. You get the undivided attention of a golf professional for 30-60 minutes at a time. While individual lessons are quite effective, golf schools also have unique benefits that may make them the ideal environment. Here's a short list of the benefits of a one-, two-, or three-day golf school:
You don't have to spread individual lessons over several weeks or months because a golf school exposes you to all aspects of the game in a short period. You're also allowed to get onto a course immediately and apply what you've learned. While it will take some time to integrate the changes in your full swing, your scores will lower immediately because of the improvement in your short game. The short shots you learn on and around the putting green are simple to learn, and easier to execute because the strokes are smaller and slower than the full swing.
Supervised coaching. You may get the same information about your swing in a 45-minute lesson, but a golf school provides more time to work on the changes under the watchful eye of a professional. Practice may make perfect, but practice also makes permanent (after all that's the idea) so you want to make sure you're grooving the right moves.
Value. Because the teacher is working with more than one student, you get twice the amount of instruction for half the price. As long as the programs are designed with plenty of individualized coaching, have a low student:teacher ratio, you can be assured quality instruction at a great price.
Leave With A Plan For Practice
The key to getting the most out of your experience is to take what you learn and try to apply it as soon as possible, whether it be in front of a mirror at home, at the driving range or on a course. You should leave the golf school with a practice program for each area of your game. Choose your instruction wisely, but do choose to do it. You may find that a golf school experience is just the ticket to making the game more fun.
Contact Lana Ortega Golf to enroll in a golf school or private lesson TODAY!...